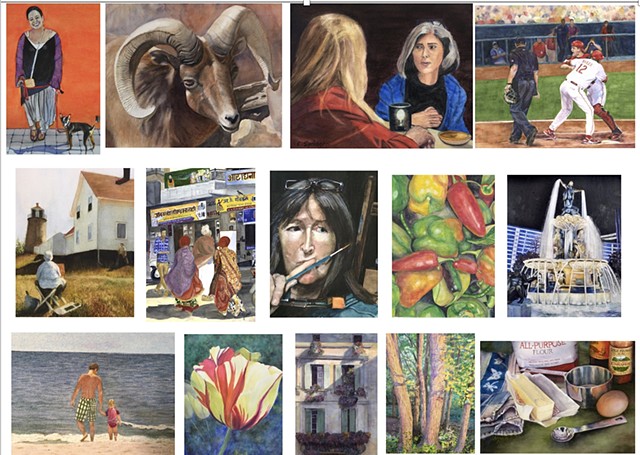 14 Diverse Artists in One Studio
"A sacred circle of learning through art and friendship" is how the late Wyoming, Ohio artist Pat Painer once described the Art Circle.
The Art Circle originated in 2004 in Wyoming as a gathering of some of Painer's former students from the Wyoming Fine Arts Center.
In 2009 the group moved to Room 122 of Cincinnati's Essex Studios, a building brimming with art studios on Essex Street between Taft and McMillan in Walnut Hills. We recently moved over to a larger studio, Room 124 right next door.
Once a week Art Circle members meet to mingle and make art. Member artists are also free to work in the studio whenever they please.
The Art Circle provides members with camaraderie and a vibrant space in which to make art with others. Studio mates provide feedback for one another and help work out artistic problems.
The Art Circle participates in the Essex Studios' Art Walks, a building-wide event welcoming the public to browse through the Essex's many studios and enjoy fine art and conversation.
Member artists have also collaborated on group projects such as DELICIOUS! The Art of Food and Cincinnati Scenes. The Art Circle has also had numerous external shows at venues including Cincinnati City Hall, Gallery Salveo, the Christ Church Gallery, Venue 222, Coffee Garden Cafe, and others.
Members of the Art Circle are: Nandita Baxi Sheth, Clair Breetz, Sherry Goodson, Brenda Hug, Gay Isaacs, Gurdev Mangat, Susan Namei, Mary Jo Sage, Betty Smith, Deanna Solomon, Connie Springer, Mary Tappel, Suzanne Wycoff, and Nancy Yund.